NUCLEAR NIGHTMARE
JAPAN – NUCLEAR NIGHTMARE.
Radioactive iodine at 7.5 million times legal
limit in water around Fukushima – Cesium-137 at 1.1 million times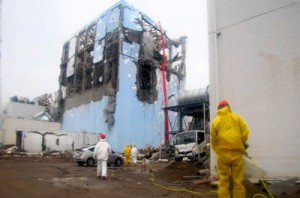 A nuclear holocaust is unfolding in Japan .  Four of the nuclear reactors are leaking radioactive particles and there's no way known to stop the ongoing contamination. Reactor Number 1 is in meltdown, now admitted by Japanese authorities.   Reactors 2 and 3 appear to be in partial meltdown and Reactor 4 is in danger of falling over.    It may take hundreds, if not thousands of years, before Planet earth recovers from the radioactive particles which last for centuries.
Not only is Fukushima Daiichi a disaster for the Japanese people but it has also provoked an unprecedented media and government cover up.    Japanese school children are being to school in areas where the radiation levels are unsafe for young people.    Pregnant mothers and those with babies are so vulnerable to this deadly pollution of the air, soil and water.
Animals have died in their thousands.   Thousands of domestic animals were abandoned when the Japanese government forced the evacuation of Fukushima and surrounding areas.   Unfortunately, the Japanese government has done almost nothing to assist the dying cattle, horses, pigs, chickens, and other farm animals abandoned.
The stories of neglect are so dreadful that we will not put them up on the website.  Australians for Animals (AFA) has been in touch with Japanese animal welfare/rescue groups but there is very little foreign groups can do.  The government is making it extremely difficult for rescuers to go to areas where animals are in desperate need.   Westerners working for Japanese groups have been threatened with deportation.  Radiation is a constant threat but the brave activists are rescuing animals without concern for themselves.Apparently some squads have been sent in to shoot animals but we currently have no certainty.
The cover-up by governments and the mainstream media is shocking.    Huge clouds of radioactive material have been carried in the jet stream to the west coast of the US, Canada, Alaska and Mexico.
These massive toxic clouds have ensured that the northern hemisphere is covered in the equivalent of  radioactive waste of 2,000 atomic bombs, 5 Chernobyls with no end in sight.
Small children, pregnant mothers and babies are particularly vulnerable to radiation, yet there has been no effort to protect them.   In the US, the Environment Protection Agency shut down the air monitors and stopped monitoring contamination of milk, water, and vegetables.
The Norwegian weather website which allowed people all over the world see the extent of radioactive clouds of radioactive iodine, caesium 131 and xenon 133 heading towards the west coast of the US and across to Europe were censored in mid May.    So there is no information available from any official sources.
AFA recommends the only websites giving current well sourced information.
Tiny traces of radioactive material from Japan have been detected in fish caught in Darwin.   Radioactive poisons will eventually find their way into the southern hemisphere. Unfortunately, there is no end in sight for the Fukushima disaster.
AFA will provide more detail in coming months.    Be aware that the media coverage is a global scandal and that AUSTRALIAN URANIUM IS BEING USED AT FUKUSHIMA.
It has never been more important to support CLEAN RENEWABLE ENERGY.    Say NO to NUCLEAR AND NO TO COAL SEAM GAS.
Light a candle, please, for the Japanese people. If there is anything AFA and others can do for the animals, it will be posted on this link.  Always the innocent suffer.